In the past two days I have made to very successful breads. Using my trusty
King Arthur Flour
and their recipe I produced the most delicious Italian Bread for my dear pregnant friend Chelsey. This certain bread is from the King Arthur Flour
"The All-Purpose Baking Cookbook"
and takes well over 18 hours to make. I began the starter around 11:30 Wednesday evening and let it sit covered for 16 hours. From there I added the rest of the ingredients using my bread maker as the mixer then transfered the dough into a large lightly greased mixing bowl and covered to rise. During this rising process I would fold the dough and flip every 30 mins for a total of an 1 hour and a half. After the time was complete I then separated the risen dough into three equal balls rolling them out into a 20 inch snake like roll. With the 3 rolls complete they were braided together to form a beautiful ready to bake loaf. Covered for another hour to let another rise compete I preheated the oven to 425 degrees. Once the hour was over I egg washed the loaf and stuck it in the heated oven for 25 to 35 mins. I have learned that the best way to know that you have the perfect loaf is by using an instant read thermometer to see if the bread has reached 190 degrees internally. I have yet for that theory to be proven wrong!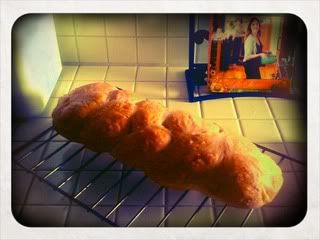 The Finished Project!
Today was a new baking adventure. A few days back I started a sourdough starter using a King Arthur Flour
Sourdough Starter
recipe online. I really liked this starter due to how simple it is and not needing to discard half of it everyday to feed it. Actually I had this starter now for 4 days and did not have to do anything but stir it once a day with no feeding. When it was time to make the bread the starter was roughly around 2 1/2 cups. Needing only 2 cups of it for the bread recipe I left the remaining 1/2 cup in the container it was originally in and fed it with 1/2 cup water and 1/2 cup flour then placed it in the fridge to slow down its process. Now for once I didn't use a KAF recipe for the actual bread but one from Chef John Mitzewich. I took the 2 cups of starter that I set aside and poured it into my bread maker pan. Then I mixed 2 cups (8 1/2 oz) of flour 1tsp. sugar 2sap salt 2 tbsp of olive oil in a small bowl then gently poured it over the starter in the bread maker pan. I set my bread maker to a medium white bread setting and let it rip. While it mixed and kneaded I began to add roughly 1/2 cup of flour one spoon full at a time letting it mix efficiently. Now this 1/2 cup isn't an exact measure it is an estimate, adding just enough till the dough looked smooth and had the proper consistency of a bread dough. Close the lid and let the maker do the rest.
Beautiful Sourdough!